Youth
Business
NBA Academy Grows Game Globally, Gives Athletes a Chance to Attend U.S. College
Why this matters
As basketball continues to grow globally, the NBA Academy helps players worldwide learn the game and have a chance at a college education
Patrick Mwamba's journey from Africa to a Division I scholarship at the University of Texas at Arlington makes for an interesting story.
But chronicling Mwamba's arrival at a school that is in the bottom half of 351 D-I institutions also involves basketball's continuing development as a global sport.
Mwamba, who is from the Democratic Republic of the Congo, is the first player from the NBA Academy Africa to go directly to an NCAA Division I school. Africa is the newest — and one of seven — NBA Academies around the world: three in China, one in India, one in Australia and one in Mexico City/Latin America. The NBA provides the funding for facilities, coaches, equipment and training at each academy.
"The parallel or the comparison you can make is that our academies are similar to high schools or prep schools in the United States," said Brooks Meek, the NBA vice president, international basketball operations and head of elite basketball. "We believe our academy program offers a sophisticated and strategic approach to developing international talent. We're providing a 360-degree development program that includes nutrition, injury prevention, sports psychology and mental health/wellness."
As basketball has evolved into a global game rivaling soccer, the lure of playing at a U.S. college and receiving a free education is strong. A sports scholarship is a foreign concept outside of America. While high schools and prep schools in the U.S. provide a natural feeder system, the model and path are far different for foreign players.
Meek describes the current foreign recruiting situation as a game of Plinko. For many athletes wanting to come to the U.S., the journey involves agents (and their runners) or talent scouts who can connect the athlete to a U.S. high school, prep school, junior college or host family. The teenager's best interests are not always considered, as illustrated by a recent scandal in Paterson, N.J., that involved charges of human trafficking.
Even if those helping foreign athletes don't have nefarious intent, for many it's being a stranger in a strange, new world.
"For players like Patrick, the Africa Academy was an opportunity to take a next step and have a gateway to a college scholarship while also being able to spend that year close to home and family," Meek said.
The Africa Academy will soon open a new practice and school facility in Saly, Senegal. Mwamba and his first-year teammates at the academy had to commute two hours round trip to SEED (Sports for Education and Economic Development) Academy in Thies, Senegal, to practice. Because of the success of the first year, the Africa Academy plans to have a second 12-man team this season.
Last February the NBA unveiled its Academies Women's Program, a series of basketball development camps for top female prospects from outside the U.S., at the league's academies. The first camp was held in March at the NBA Academy Latin America. Karla Martinez, who participated in that camp, is currently on scholarship for the University of San Diego.
"I would say at this point we are so far advanced in such a short time with what we're trying to accomplish," Meek said.  "We know we've got a long way to go because there's so much we can do to help more athletes reach their potential in that holistic way."
Mwamba willing to work
Roland Houston is the NBA Academy Africa's technical director. That entails managing and supervising the academy's development while also being head coach, teacher and mentor to players like Mwamba.
"Patrick is a natural-born leader," Houston said via email. "When I needed something done with the team, I would say: 'If there is an issue I am blaming you.' His reply always was: 'No problem coach; I got you coach.' Patrick is exactly what the academy is about. We give an opportunity and resources to a talented young person, and all we want them to do is to take full advantage of this great opportunity."
While a great opportunity, Mwamba ending up on scholarship at UT Arlington is a journey that stretches the meaning of kismet.
Mwamba is the third oldest of 12 children and, like most of his countrymen, he first played soccer. But his older brother was playing basketball, and Patrick was drawn to hoops just before his teenage years.
"I liked the intensity and how you have to apply yourself mentally," he said.
[beauty_quote quote='"We hadn't even met the kid face-to-face until he got off the plane from Senegal." - UT-Arlington basketball coach Chris Ogden']
It was quickly apparent he made the right choice. In 2016, Mwamba was the leading scorer for the Democratic Republic of the Congo team in international competition and was selected to play on a Basketball Without Borders team. At the Get Better Academy Invitational in Prague, he was named the most valuable player and averaged 20 points a game to lead his team in scoring. That led, a year ago, to his being the first player invited to the NBA Africa Academy.
During his time at the academy, he tried to watch and study as much college basketball as possible. Then he gained an up-close-and-personal experience in April at the Final Four in San Antonio. Partnering with the NBA Academies and USA Basketball, the NCAA staged its inaugural Next Generation Sunday, which gives high school-age prospects the chance to experience educational, life skills and competitive events.
"That was amazing, incredible," said Mwamba, who was one of the 67,000 in the Alamodome for the final phase of March Madness. "Too many people, though."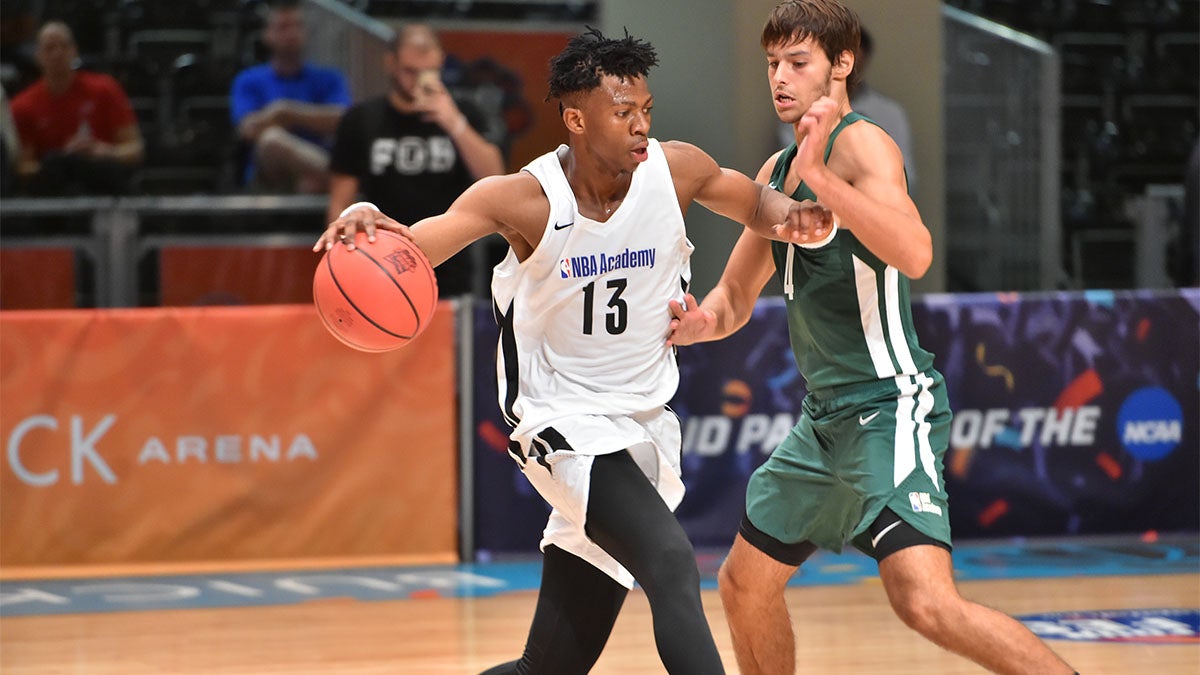 In a roundabout way, participating in Next Generation Sunday led to his college destination. However, the recruiting process was far from ordinary.
During the Final Four, UT Arlington was without a coach. The school dismissed Scott Cross, a former Maverick and the winningest coach in school history, on March 26. Chris Ogden wasn't hired until April 10, and he was faced with a complete roster rebuild. Even in that circumstance, giving a scholarship sight unseen to a player is far from standard operating procedure.
"We had a small bit of film on Patrick, but some people we respect had seen him play," Ogden said. "We called around and talked to some NBA folks who had seen him play and they were like, 'If you can get this kid, get him.'"
UT Arlington sent assistant coach Riley Davis to an NBA Academy tournament in Australia, where Mwamba wasn't even playing. (He was in Africa taking tests.) However, the trip allowed Davis to confirm and gauge the level of competition Mwamba had faced.
[beauty_quote quote='"This opportunity is very big for me. I want to study hard and learn how to play the game as best I can. I want to be an example for any of the players who go through the Africa Academy. I want them to work hard and go to the next level." - Patrick Mwamba']
"We hadn't even met the kid face-to-face until he got off the plane from Senegal," Ogden said.
Learning English is part of the education at the Africa Academy. Mwamba's native language is French, and less than two months after arriving on campus, he believes he's breaking down the language barrier.
"Sometime, I lose the word," he said. "English is not my first language. I go to the restaurant and I can't order something, I can't say the word, I just point on the menu. But it's positive because my teammates are all helping me. I'm adapting little by little."
Ogden said Mwamba, who is 6-foot-7, has the kind of measurables that translate to the NBA. He has long arms, a frame that can easily add muscle, quickness and jumping ability. His size and speed can make him a versatile player.
"He needs to refine his skills," Ogden said." He's already a good player but he's going to be a really good player."
Ask most college freshmen what part of their game they're working on and a high percentage will mention offensive skills. Mwamba loves defense and hard work.
"I have to work harder than I've ever worked in the past," he said. "If you work hard … the work never lies. And coach Ogden says, 'Think big, work hard, believe.'"
Efforts in Africa paying off
African-born players such as Joel Embiid (Cameroon), Serge Ibaka (Republic of the Congo), Emmanuel Mudiay (Democratic Republic of the Congo), Gorgui Dieng (Senegal), Luol Deng (South Sudan), Bismark Biyombo (Democratic Republic of the Congo) and Thon Maker (South Sudan) are current NBA players who illustrate the continent's deep vein of basketball talent.
"Most people assume basketball players from Africa are centers, big guys," Meek said. "Patrick is a perimeter player who can guard three different positions, a player with developing offensive skills. He's the type of player who shows what the vision is for the NBA Africa Academy."

While Mwamba might be a modern-day trailblazer, the original trendsetter was Hakeem Olajuwon from Nigeria. Named one of the NBA's 50 greatest players, Olajuwon arrived at the University of Houston in 1980 as an unknown (but crazily athletic 7-footer) entity. And 16 years after his retirement, Olajuwon is still known and revered by teenagers such as Mwamba, whose face lit up when asked if the name meant anything.
Olajuwon's nickname was "The Dream," which encompassed his size and skills on the court but also described his journey to basketball's heights.
Asked about his dream, Patrick Mwamba is clear: "My dream is to play in the NBA."
Ogden said: "I'm not betting against him."
"This opportunity is very big for me," said Mwamba, who plans to major in business management. "I want to study hard and learn how to play the game as best I can. I want to be an example for any of the players who go through the Africa Academy. I want them to work hard and go to the next level."
Wendell Barnhouse started his career as a sportswriter at 18 and spent the next four decades in newspapers writing and editing. From 2008-2015 he was the website correspondent for the Big 12 Conference producing written and video content. He has spent the last three years freelancing, most recently covering college basketball for The Athletic.
Tags:
Bismark Biyombo
,
Cameroon
,
Democratic Republic of Congo
,
Division I
,
Emmanual Mudiay
,
Final Four
,
Gorgui Dieng
,
Hakeem Olajuwon
,
human trafficking
,
Joel Embiid
,
Karla Martinez
,
Luol Deng
,
NBA
,
NBA Academy Africa
,
NBA Academy Latin America
,
NCAA
,
Next Generation Sunday
,
Nigeria
,
Patrick Mwamba
,
Republic of Congo
,
Roland Houston
,
SEED
,
Senegal
,
Serge Ibaka
,
South Sudan
,
Sports for Education and Economic Development
,
Texas-Arlington
,
Thon Maker
,
USA Basketball
,
UT Arlington