Youth
Phoenix's Champion Schools reimagines the relationship between sport, education
Why this matters
One Phoenix charter school is using involvement in sport and physical training to build up students as people and in the classroom.
Young athletes are typically encouraged to push themselves to the highest level of competition at every step of their career. Champion Charter Schools district in Arizona takes the position it is not possible for all athletes to attend private school or play with club teams, even with scholarship money and an it-takes-a-village support that can open doors for students involved with youth sports. The school is reimagining the path.
The first thing guests will notice when they enter the lobby of Champion's South Phoenix campus, as students of all ages run around a rubber track for their morning workout just to the side of the school's office building, are the trophies. Dozens of them.
Champion is proud of its model, which pairs award-winning K-8 education with a comprehensive sports-centric approach to the school's curriculum and community.
The three components of the comprehensive sport-centric approach, as Arizona State University Assistant Research Professor Allison Ross described, work to "create a really strong sense of community at Champion."
Instead of traditional physical education, students participate in hour-long workout sessions Monday through Thursday. They are required to participate in after-school sports— one per season for young students and two per season once students start fourth grade. The final component is a requirement that all teachers serve as coaches.
"You want them to be dripping with sweat but with a smile on their face," said Philip Cahal, the school's athletic director.
A tour through the South Phoenix campus shows as much. The hardtop basketball court between the front office and classroom building is lined with hoops on each side and filled with students. The noise of the students being coached over at the track near the front of the school swells with the older students on the court working on basketball and volleyball skills. There's a buzzing energy to start the day.
Champion owner Carolyn Sawyer developed the idea, in part, with Cahal's help, and the model took off when they found a campus in South Phoenix.
Sawyer grew up before the passage of Title IX. The only options available to her as a young female were cheerleading and pep band. She said she believes performance in sport is connected with achievement in the classroom, and she proudly boasts of the A rating from the Arizona Charter School Association. A banner with the designation hangs above all the sports championship banners in Champion's gym.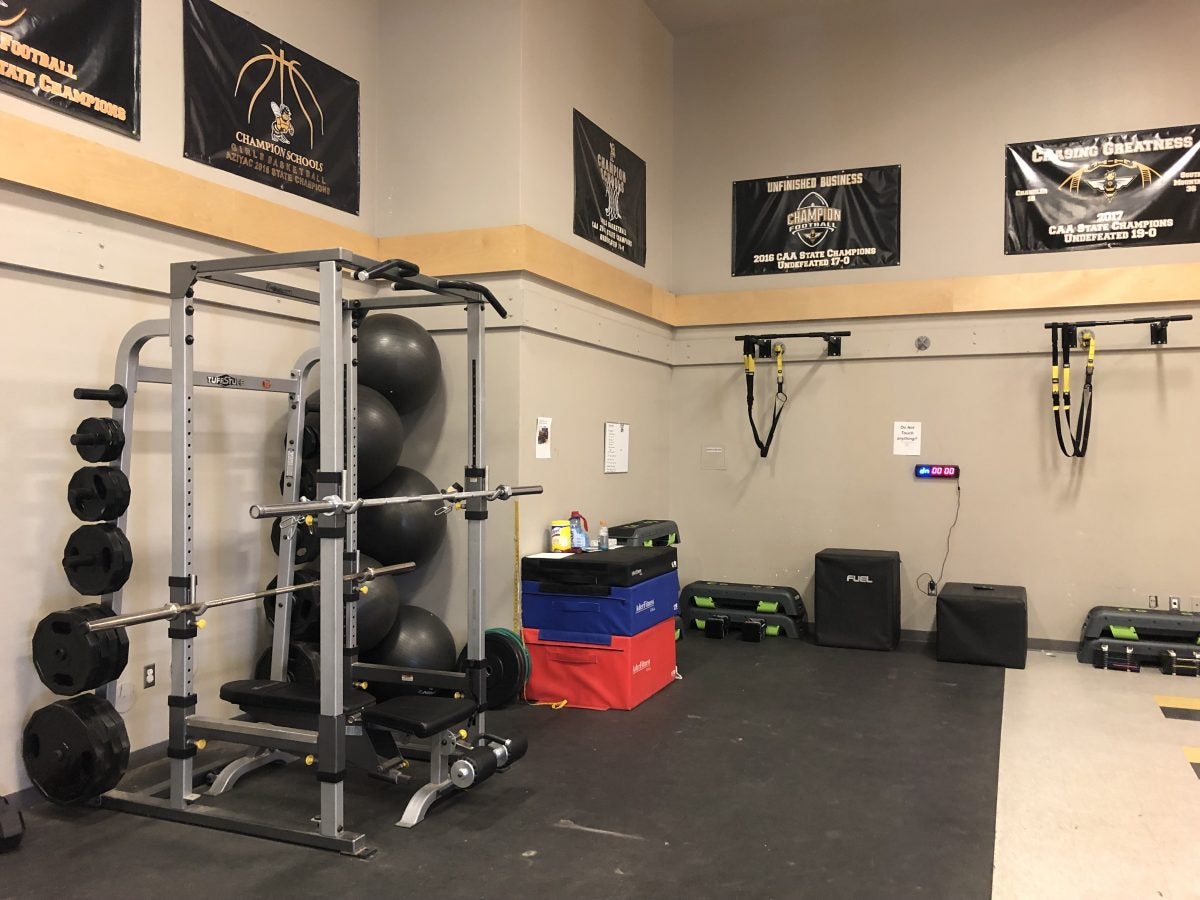 'It brings our whole campus together'
All students train between 45 and 70 minutes per day in lieu of a traditional physical education class, performing speed, agility, weight resistance and explosive movement workouts that are foreign in most grade schools.
"Some of the stuff that they're doing, I definitely didn't do until I was in college," he said.
That includes intense competition at a young age.
Varsity, which is what Champion calls its top-level competitive teams, gives students opportunities in a variety of sports. During the fall semester, Champion offers flag football and girls' volleyball. Winter brings boys' basketball, followed by girls' basketball, coed soccer and track and field in the spring.
Only middle-school-aged students compete on Varsity. At that time, physical training ramps up, said Cahal, who helps manage and oversee athletics across the district.
Cahal started at Champion when he was 20 years old playing college baseball. Initially, Cahal was a coach for Champion's youngest students before the school even built its first campus. The campus was three buildings in the greater Phoenix area and school officials struggled to organize students and faculty.
His vision for the school's sport-centric program developed out of his experience at EXOS Phoenix, a 31,000-square foot training facility that he and his Arizona State teammates used.
"We had trained as professionals and around professional athletes, so we took what we had learned as athletes and we started applying it to the kids," Cahal said.
His colleagues dreamed of what it would be like at a young age to have access to professional skill training and exercise. They wanted to give Champion's students that opportunity.
The approach changes more than just how an average student's day looks. Ross' survey research shows they feel relatively more gifted, successful and personally connected with their schoolmates as a result of the school's sport-centric approach.
The Saturday-morning competitions among Champion students illustrate the connection between students, parents and faculty that doesn't exist at many schools, particularly one with sport at its core.
"It's a big community function," said Ross, who previously taught physical education at a public school. "They seem like they have a special bond there at the school through that focus on sports."
"It brings our whole campus together," Cahal added. "When I'm talking to younger students, they really have a sense of pride about what they're growing into and they also learn to be on a team.
"It sheds a new light on the community down at South Mountain as a whole … When you come in on a Saturday morning, and you've just got a bunch of kids smiling, ready to go play their sports and their parents are there to support them, it's a beautiful thing."
The games are not mandatory or a part of students' grades in class. Rather, the voluntary gatherings have become a symbol of the excitement around sport at the school.
Changing the way sport and education intersect
Students at Champion South Mountain can't afford Pop Warner football or club soccer. The trickle-down of Champion's supportive ecosystem is important for a community where 45.9 percent of children younger than 6 years old live below the federal poverty line.
The district's other campuses are in similarly downtrodden socioeconomic areas, and administrators hope Champion's model continues to cultivate a community built around pride and work ethic in sport.
Ross' research shows it's working.
"When teachers are involved with kids after school, it's in a different environment, a more personal environment, sometimes a more fun environment where they can connect at a different level and really form those bonds," Ross said.
"A lot of students will respond very differently in that setting as compared to sitting in a classroom. The engagement and relationships that can be formed after school might be really critical for the social and emotional health for students, let alone the physical benefits of being involved with sport."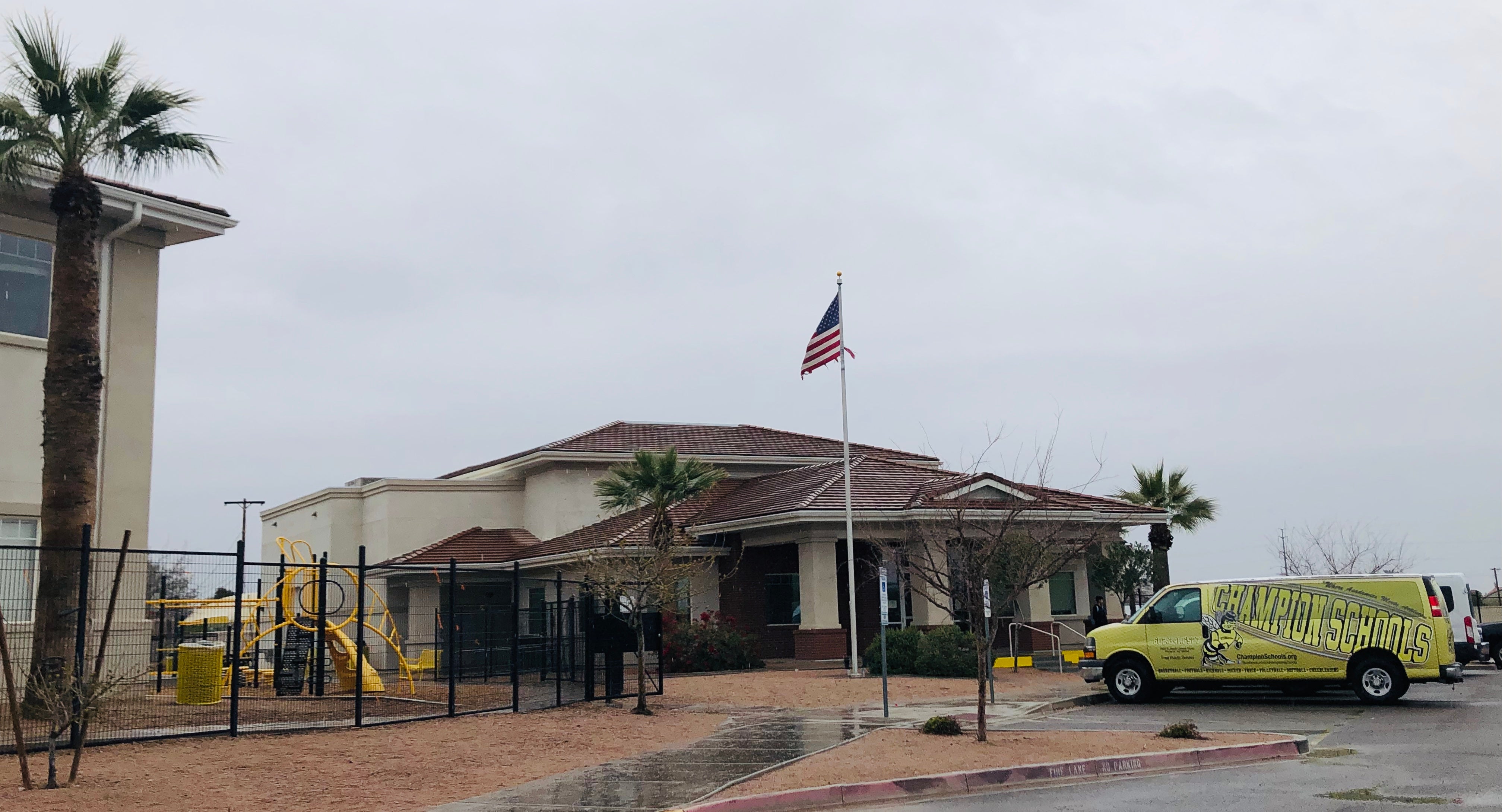 As the owner, Sawyer helps students choose high schools and bases the decision on college applications to encourage and educate students early. Students are encouraged to travel to public high schools where they will continue to get a good education and compete in sport, such as public high school Desert Vista or private school Valley Lutheran.
At Champion, students' sports fees, which are $45 per child, cover 25 percent of the costs. Sawyer said she works hard to find scholarships and grants to make the program more cost-effective for the district and affordable for students.
In order for the sports-centric model to take off around the globe, Sawyer said it needs to become financially viable at Champion.
"That component could really translate into the public school setting as well," Ross said, because of the way it increases student motivation in and out of the classroom and empowers young people.
However, Ross' research showed female students at Champion displayed a lower sense of motivation compared with young boys. Ross said he views that result not as an indictment of Champion's model, but rather a "hurdle across the world."
Many of the female students Ross interviewed said they wanted more women coaches. Sawyer and Cahal noted how much of a struggle it can be to find experienced teachers who can also be good coaches. That, in turn, makes it difficult to offer the same variety of sports for female students -- in the winter, girls can try out for boys' basketball if they want, but there are no opportunities for an all-girls team.
The problem is cyclical.
Champion is not only competing with societal inequity but big business. According to a 2017 Time magazine article, the nonprofit United States Speciality Sports Association generated $13.7 million in revenue in 2015. Privatized youth sport has grown into a global, interconnected money-making monolith that leaves some students behind. Colleges and pro leagues target youngsters who develop in private clubs and, in turn, athletes like those Champion grooms have a more difficult path to scholarships or professional opportunities.
Those circumstances favor wealthy families and disenfranchise poorer ones. Linda Flanagan of The Atlantic reported in 2017, "Compared to their peers, whose families make more than $100,000, children ages 6 through 12 whose family income is under $25,000 are nearly three times as likely to be "inactive" — meaning they played no sport during the year — and half as likely to play on a team sport even for one day."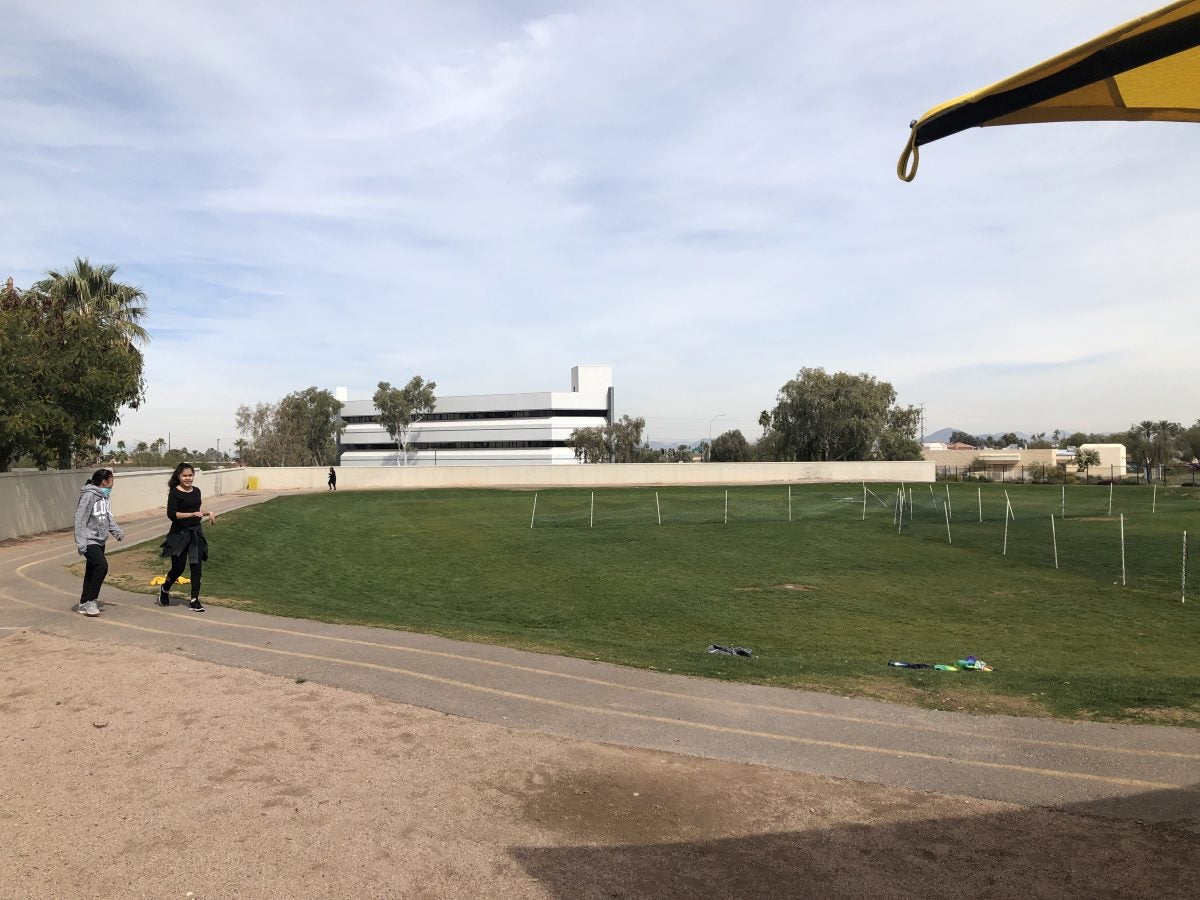 Yet there are many success stories that continue to inspire the staff at Champion. Anthony Marquez attended Champion in its early days and moved on to Camelback High School after graduating. He was the varsity quarterback at Camelback as a freshman. He received scholarship offers from Stanford but chose Arizona State to stay closer to family and the community he loved at Champion. He continues to volunteer at the school.
Marquez and other students who overcome obstacles by way of participation in sport could be categorized as what researchers have termed "good youth." A 2005 report from the Physical Education and Sports Pedagogy journal showed that physical activity was positively correlated with academic performance and facilitated proper growth and development in children.
Ross believes stories such as Marquez's, in addition to the overwhelming positive sentiment found in her survey research, show the model can work in public schools and grow. She sees Champion as potentially the start to something grander across the country.
While nationalized programs such as the Fitnessgram help public schools monitor students' fitness in physical education classes, no federal law requires minimum standards for physical education. Ross said public schools could meld traditional physical education with Champion's focus on physical and skills training to build pride around sport while checking
Across the country, detecting and avoiding physical and emotional burnout has become a focus for educators and coaches. The 2005 report's survey data showed 50 percent of study participants believed programs were "too serious, focused only on winning, and lacked enjoyment."
Champion combats this by offering several different sports for boys and girls, and Ross said she believes the school's healthy meal program as well as its focus on technique and fitness over competition could help.
"When athletes are exposed or sampling different sports, especially at a young age, they're less likely to burn out," Ross said.
Champion, Ross said, is building a program that makes students engaged, happy and successful and combating industry-wide pitfalls. They are more focused on building their own system than the future, but Cahal said he believes growth is possible:
"Being healthy, being a physically fit person, loving to move," he explained, "to be a part of a classroom and a community, striving to get better and be a healthy, strong person, those are obvious benefits that you can take from going to Champion."
Brendon Kleen is a senior journalism student at Arizona State University
Related Articles
Traffickers lure athletes with dreams of sporting glory only to abandon them far from home
Related