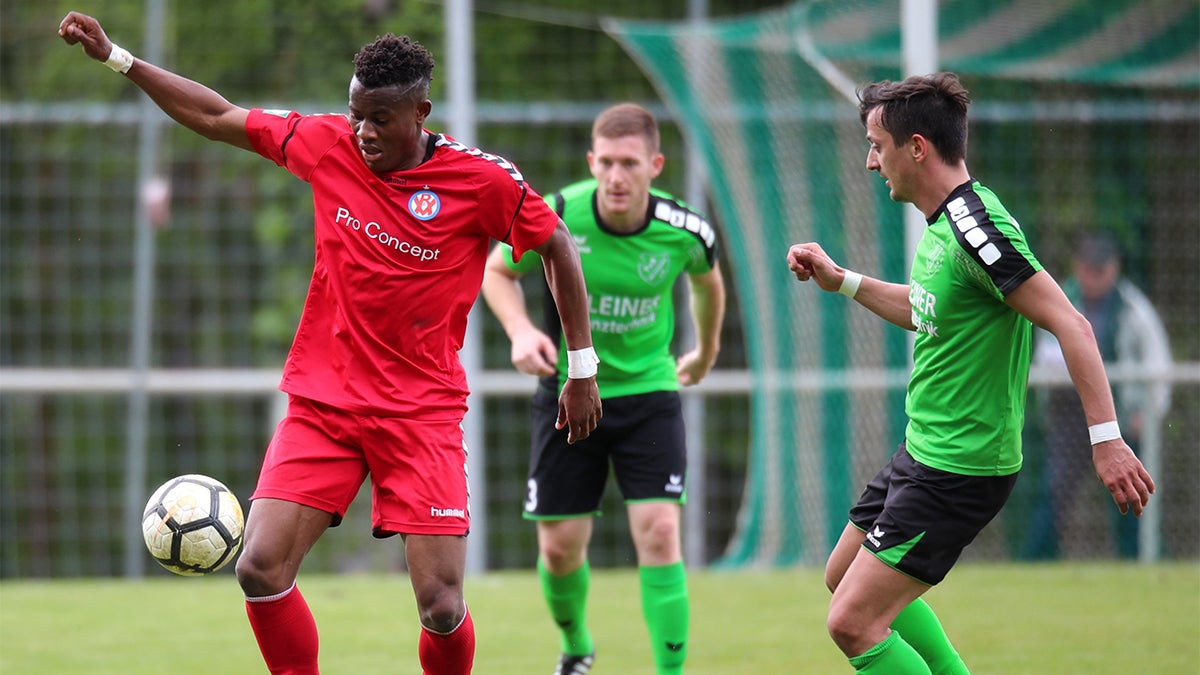 London-born footballer Daniel Olaoye is taking an unconventional route on his journey, which, he hopes, will end with a Premier League chance at Manchester United.

The 22-year-old has played in Greece, Sweden and Germany since leaving the English nonleague game.
In 2019, Olaoye plays for VfR Mannheim, the former champions of Germany that re-formed after financial troubles a decade ago, in the Verbandsliga Nordbaden, the sixth tier.
Comparisons can be made between him and Jadon Sancho, the most successful of England's exports to Germany. The good friends are both forwards, and Olaoye has spent a trial period at Borussia Dortmund, while Sancho enjoyed unprecedented success at the German club after moving from Manchester City.
England's most famous export, David Beckham, played for Real Madrid between 2003 and 2007, but he was part of a limited group of Brits who played overseas during that period.
Now, though, British professionals are based in 48 foreign countries, including Albania, China, New Zealand and Qatar.
For many, the Premier League represents the end goal. British players, though, are increasingly finding the chance to develop abroad can be beneficial to their end goal. Olaoye is an example of the growing trend headlined by Sancho.
Premier League side Wolverhampton Wanderers F.C. routinely loan players to Slovenian side FC DAC 1904 Dunajská Streda and sent 10 players to Spain's FC Jumilla last season. The Swedish team Ytterhogdals IK has a squad of mostly British former academy scholars, managed by Adie Costello, an English coach.
In the early summer of 2019, former Leeds United player Alex Purver moved to Sweden, joining Östersunds FK; Scotsman Jack Harper continued his stay in Spain with Getafe CF; and Reading's Liam Kelly moved to the Netherlands' Feyenoord.
Olaoye said: "I have had a great grounding by playing abroad. Most countries' styles let players express themselves more, which is not always true in England.
"I have had a great grounding by playing abroad. Most countries' styles let players express themselves more, which is not always true in England." – Daniel Olaoye
"There is no rush to make it to the very top in England for English players; you can always leave and come back better and stronger. I think some people forget that."
Olaoye played for Junior Hammers, a youth side associated with West Ham United, for most of his youth after showing talent at a young age. 
"My career started in primary school, when I was sent to the David Beckham Academy in Greenwich when I was 9," he said. "Our team got to the final, where I scored the winning goal.
"We were all awarded with gold medals. It was brilliant to meet people from different countries and backgrounds there, and I was very happy that I won and my twin brother, David, didn't!"
Olaoye was not offered a scholarship or professional contract, however, and he chose to move into nonleague soccer, having enjoyed a brief spell with Elite Pro, a developmental side made up of mostly ex-academy scholars.
After rejecting interest from Reading and Sheffield United's academies in favor of first-team football in the lower leagues, he scored 22 goals in 35 games in a solitary season for Newham in the Essex Senior League. 
The club's Greek coach, Kostas Kiassos, who played professionally in his home country and Spain, recommended the Olaoye twins to one of his former clubs, OFI Crete F.C.
The pair signed with the club's under-20 team.
"In my first few training sessions, the temperature was over 35 degrees Celsius," Olaoye said. "I slowly got into it, and picking up the language was not a problem for me."
The brothers played well and earned moves to AO Tympakiou's senior side, which played in the fourth-tier Gamma Ethniki, ahead of the 2016-17 season.
Olaoye explained: "I got off to a great start at AO, but I picked up a few injuries. Instead of waiting for the next Greek season, my agent and I looked into moving to Sweden because the season there had just begun."
He signed with Nordvärmland FF, of the Swedish Division 2 Norra Götaland, and moved away from David for the first time. His twin joined NK Bravo Ljubljana of Slovenia before becoming the first English professional footballer in Argentina by signing with Club El Porvenir. In 2019, he plays for Nybergsund IL-Trysil, in Norway's 3 Divisjon.
More than 1,000 miles apart from his brother, Daniel endured a mixed debut season in Sweden.
"I went through long spells of being a substitute, playing 15 or 20 minutes in lots of games, but I finished with seven goals and four assists in 14 games."
His form in Ambjörby earned him an unexpected trial at the turn of 2019 with Dortmund to enter its reserve side of the Regionalliga, the fourth tier. 
"The standard was of a level I had never experienced before. The players were very organised, and the coaching was of a brilliant standard." – Daniel Olaoye
"Their offer came as a huge surprise to me. I never expected to be given a chance at such a huge club," he said.
"The standard was of a level I had never experienced before. The players were very organised, and the coaching was of a brilliant standard.
"They decided to not offer me a contract, which was disappointing, but I understood their reasons. I still talk to the reserves' manager, Ingo Preuß, who offers me lots of advice and asks how I am getting on."
Fellow Englishman Denzeil Boadu's trial period was successful, while Sancho starred for the club's first team and earned an England national team call-up. Another of Olaoye's close friends, Reiss Nelson, featured regularly for TSG 1899 Hoffenheim on loan from Arsenal.
Olaoye decided on a move to VfR Mannheim after a transfer to local rival Waldhof Mannheim fell through. 
Olaoye said: "The manager, Kenan Kocak, was the main reason why I chose Mannheim. He is exactly the kind of coach a young player like me needs to reach the highest level. It was a good season for me, individually, but I played my best football in the last four games."
In the short term, promotion with Mannheim is Olaoye's aim. However, he has his eyes on a return to the English game as a professional, ideally alongside his brother.
"I am to play in the English Conference, League Two and League One," Olaoye said. "They are good stepping stones toward the Premier League. To play for Manchester United would be a dream come true. I want to play in the Premier League one day."
If Olaoye's skills on the pitch can match his determination, his dream of reaching the pinnacle of English football is certainly possible.
Ryan Plant is a freelance sports journalist from Lincolnshire, England. He is a recent football journalism graduate from the University of Derby. His portfolio can be found at wakelet.com/@ryanplant1998
Related Articles
Opinion: Premier League's domination of Europe the antithesis of Brexit
Rise of Premier League globally has changed the local face of fans
Tags:
3 Divisjon
,
Adie Costello
,
Alex Purver
,
AO Tympakiou
,
Arsenal
,
Borussia Dortmund
,
Club El Porvenir
,
Daniel Olaoye
,
David Beckham
,
David Beckham Academy
,
Denzeil Boadu
,
Dunajska Streda
,
Essex Senior League
,
FC Jumilla
,
Feyenoord
,
Gamma Ethniki
,
Getafe
,
Jack Harper
,
Jadon Sancho
,
Junior Hammers
,
Kenan Kocak
,
Kostas Kiassos
,
Leeds United
,
Liam Kelly
,
Manchester United
,
NK Bravo Ljubljana
,
Nordvarmland FF
,
Norra Gotaland
,
Nybergsund IL-Trysil
,
OFI Crete FC
,
Ostersunds FK
,
Premier League
,
Reading
,
Real Madrid
,
Regionalliga
,
Reiss Nelson
,
Sheffield United
,
TSG 1899 Hoffheim
,
VfR Mannheim
,
Waldof Mannheim
,
West Ham United
,
Wolverhampton Wanderers
,
Ytterhogdals IK