Youth
Archive
Love of baseball but lack of opportunities moves Thibaut from player to scout
Why this matters
Women's and girls' interest in some traditionally male-only sports has grown exponentially in recent years, and new teams and championships are being created in response.
FOLSOM, California – Since age 4, Sara Rose Thibaut has been in love with the game of baseball.
That love of baseball has led her to a different area of the game: baseball operations. It's an opportunity Thibaut didn't consider until she went to MLB's Taking the Field program at the winter meetings last year.
MLB currently has only one female scout, Amanda Hopkins, who just finished her fourth full season with the Seattle Mariners. Hopkins, whose dad worked in baseball operations, knows the struggles of getting into the game. She talked with Thibaut and 11 other women at the Women's Sports School Scout Baseball! program about her journey to the big leagues in October.
 "She (Amanda) said just to stay the course," Thibaut said.
Staying the course is what Thibaut has had to do her whole life. Early on, she noticed the lack of female representation in the game of baseball.
"For baseball when I was young, I didn't understand. I said, 'Mom, why isn't there girls on the field at these Major League Baseball games? Can I be the first?' Then, of course, she said yes."
Thibaut is an only child. And her parents were fully invested in all her interests.
"We focused 100% of our energy into what she wanted to do," Sara's mother, Patty Thibaut, said. 
"And, really, what we've been is her fans promoting her, you know, signing her up and making sure she gets to all the tryouts."
Thibaut has played baseball for over 20 years now. She started playing in the Folsom National Little League, where she played every position from first base and the outfield to pitching. 
"Some of the kids really could have cared less sometimes," Thibaut's youth coach, Mark Bouchlin, said. "But she was there to play every team every year I coached her. And she had a good time doing it."
She played Little League baseball until she entered Sacramento Waldorf High School, where she played varsity baseball all four years. She was an off-speed pitcher with a sidearm release. Thibaut also played in the infield.
"There's not really any opportunities to play baseball after this (high school), so I started researching, and I then realized that there was a women's national baseball team," she said. 
Thibaut tried out for the women's national baseball team twice before finally making the team's 40-woman roster in 2016 on her third attempt. She did not make the final 20-woman roster that won gold at the 2016 World Cup in South Korea.
Off to Australia
Thibaut continued playing, joining the Melbourne Demons in an Australian women's baseball league. The adjustment was hard.
Although the Australian baseball seasons run from October to February, Thibaut came home to Folsom for Christmas because she was homesick.
"It was awful," Patty Thibaut said. "If it wasn't for FaceTime, I would be (a) crazy woman. I mean, it was her first time away from home … She really was homesick."
Seeing her parents at Christmas rejuvenated Sara Thibaut and made heading back to Australia to play easier. Patty watched her play whenever it was possible via Skype calls. 
Baseball Scouting
Thibaut came back to the states after playing baseball in Australia for a year and a half. And she started attending Folsom Lake College, where she earned a variety of associate's degrees.
"When she wants something, she goes for it, and she is very determined," said A.J. Richard, a member of the Society for Baseball Research (SABR) and creator of the Facebook group Women Belong in Baseball. "She's not going to let anything stand in her way."
Thibaut now goes to Sacramento State, graduating this fall with her bachelor's degree in early childhood education and journalism. She plans on attending graduate school to get her master's degree.
While taking classes at Sacramento State, she has worked at former MLB catcher Matt Walbeck's Baseball Academy and played in the National Adult Baseball Association. Both have helped her to continue to cultivate how she looks at the game.
"There's certain benchmarks that they're looking for, you know; you have to pitch over 90 miles per hour," Richard said. "And you have to do this and that, and yet look at a Greg Maddux. And so most of his career, he wasn't pitching in the 90s, but he's one of the greatest pitchers of all time. And you look at his statistics. He's in the record books because he had so much control."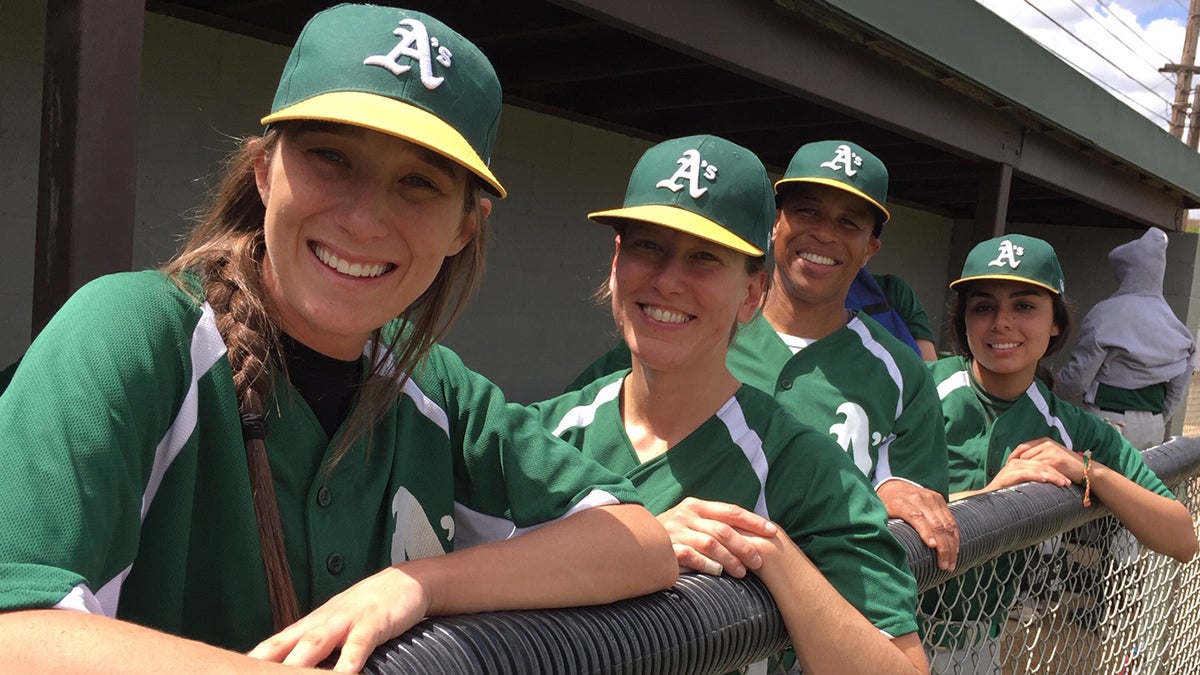 Maddux's emphasis on command is a different approach to how pitching is looked at in baseball. During his career, Maddux had only one season when he had over 200 strikeouts. This year alone, 24 pitchers had 200 or more strikeouts.
Thibaut finds that her take on baseball is different from that of her peers because of all the adversity she has faced to get to this point – trying out for the women's national baseball team three times, not making the team's trip to the 2016 games and riding the bench on her high school team before getting the opportunity to start.
"She can recognize that amazing ability to overcome barriers in other people," Richard said.
MLB received a "C" for gender diversity in the latest race and gender report card from The Institute for Diversity and Ethics in Sport (TIDES) at the University of Central Florida; that mark was lower than those of several other professional leagues. Thibaut, however, doesn't want other women who are interested in baseball to shy away from potential opportunities.
"You have to make your own opportunities," Thibaut said. "I think just to continue that (baseball), just through everything through scouting, through playing, through coaching, and hopefully open up those doors for girls coming behind us to realize there's an opportunity and it can happen."
Thibaut not only wants to make her dreams of working in baseball operations happen, but she also plans to continue to give back to the game that has done so much for her.
Lamar Smith is a graduate student in sports journalism at Arizona State University
Tags:
A.J. Richard
,
Amanda Hopkins
,
Folsom National Little League
,
Greg Maddux
,
Mark Bouchlin
,
Matt Walbeck Baseball Academy
,
Melbourne Demons
,
MLB Taking the Field
,
Sacramento Waldorf High School
,
Sara Thibaut
,
Seattle Mariners
,
Society of American Baseball Research
,
Women's Sports School Scout Baseball!
,
Women's Sports School
Related