Health
Culture
Ability to play through pain is more than mind over matter for athletes
Why this matters
Researchers have found that women were more willing to play through injuries than men. In addition, the willingness to play through pain is seen as heroic or even necessary for success.
Hampered by a herniated disk, Elena Delle Donne of the Washington Mystics could barely run. Yet time after time, during the decisive Game 5 of the 2019 WNBA Finals, she found herself with the ball and somehow made clutch shots.
Despite the pain, the league's reigning Most Valuable Player finished with 21 points, a team-high nine rebounds and didn't commit a turnover in the Mystics' 89-78 victory over the Connecticut Sun to capture the WNBA championship.
Science has yet to fully explain how a player finds a way to play through pain. 
A 2014 study by an Australian university found that aerobic training can increase the pain tolerance in healthy individuals. Another study by the American Alliance for Health, Physical Education and Recreation showed that birth order may play a role, with first-born people more likely to avoid such contact sports such as football, lacrosse and judo than kids farther down in the family pecking order. And the North American Journal of Psychology recently discovered that previous experience with pain has "a desensitizing effect on pain threshold and tolerance."
Delle Donne's willingness to play through pain is supported by researchers at the University of Calgary, who found that women were more willing to play through injuries than men, even when other socio-demographic and psychological factors are included.
In addition, the willingness to play through pain is seen as heroic or even necessary for success. Multiple studies have shown that coaches respect athletes who play through pain more than others. This element of sport culture, dubbed "sport ethic" in past studies, "emphasizes sacrifice for 'The Game,' " has been exacerbated in a heightened media environment that glorifies playing through pain.
A Canadian study showed that, in sub-elite athletes working to meet major goals like making a championship or Olympic team, the goals of athletes outweigh the potential consequences of playing through pain, even though pain often points to injury. 
Athletes in this study discussed the difficulty of distinguishing between soreness and pain, so it's possible their lack of concern about potential injury means that they aren't always sure how much pain is problematic. In general, "the importance they attributed to reaching their goals appeared to have a bigger impact on their decision-making."
The study showed that, because these athletes can't always distinguish between soreness and pain and because athletes at the sub-elite level are at decisive points in their careers that could determine their future in sport, "they are in some ways quite vulnerable to making poor decisions in regards to potential long-term consequences."
 Thus, researchers stressed the importance of trainers and coaches educating athletes as to the potential consequences of playing through pain.
The largely internal decision-making process of athletes about when to play through pain, combined with their tendency to try to mask painful facial expressions from coaches and trainers, raised the question of who should make the decision to play-through-pain, and how. Researchers advised that coaches and trainers pay attention to "functional limitations such as altered movement and decreased performance, and mood changes to assess the athlete's condition" rather than relying on athletes to admit to pain or show facial strain. Most of all, the decision making process should be based on strong relationships between athletes and their trainers and coaches.
With such relationships, athletes, coaches and trainers can determine when it's appropriate to play through pain, as Delle Donne did during the WNBA Finals. As the sub-elite athlete study showed — and as many of sporting history's most heralded moments demonstrate — athletes are more likely to play through pain when the stakes are highest. 
Delle Donne turned to meditation to help manage her pain during the WNBA Finals. And in finding a way to cope with the pain and remain on the court in a big moment, she placed herself among elite company, including:
Curt Schilling.  Before Game Six of the American League Championship Series against the New York Yankees, the Red Sox right-hander had a torn tendon in his right ankle sutured to the skin. The procedure was first done on a cadaver to see if it could work. With blood famously seeping through his sock, Schilling dominated through seven innings. In winning the game at Yankee Stadium, Schilling put Boston in position to rally from 3-0 deficit in the series and capture the 2004 pennant.
Michael Jordan. During timeouts in Game Five of the 1997 NBA Finals, the Chicago Bulls star could barely stand. But after the Bulls spotted the Utah Jazz a 16-point lead in the first quarter, the ailing Jordan led a comeback, scoring 38 points in Chicago's 90-88 victory. Officially, Jordan was said to have the flu, but years later, trainer Tim Grover told ESPN that it was likely food poisoning from a hotel pizza.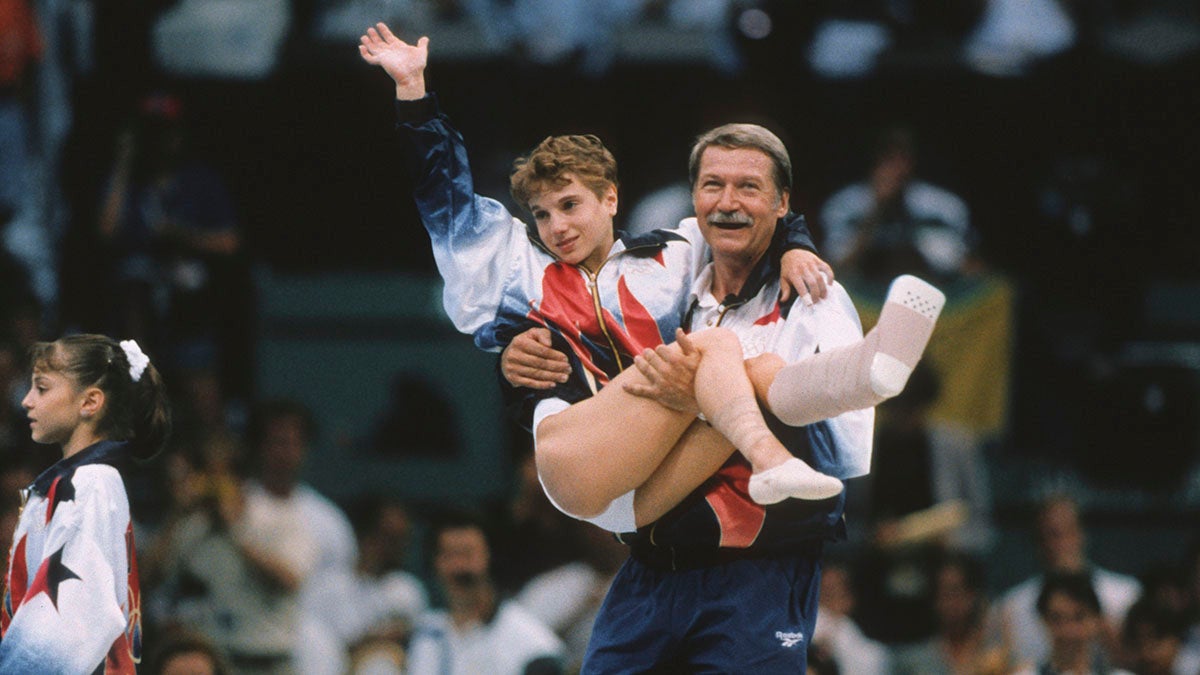 Kerri Strug. Holding a slim lead over the favored Russians at the 1996 Summer Olympics, the U.S. women's gymnastics team needed one more quality vault to secure the gold medal. But when one American competitor fell and then Strug injured her ankle on the first of her two attempts, it didn't look good for the U.S. women. 
But with U.S. coach Bela Karolyi yelling, "You can do it, Kerri!" and fans standing in anticipation, Strug somehow landed her vault on one leg. She saluted the judges before crumbling over in pain. Her score of 9.712 was enough to give the Americans the team gold.
Jack Youngblood. The defensive end proved to be such a force for the Los Angeles Rams that the team traded star Deacon Jones to make room for him in the lineup. Youngblood would go on to play a Rams' record 201 consecutive games and miss only one contest in 14 seasons. There was no keeping the five-time All-Pro out of the lineup, which was underscored during the 1979-80 NFL playoffs when he broke his left fibula, the large bone of the upper leg. Fitted with a plastic brace, Youngblood somehow played every defensive down in both the NFC title game against Tampa Bay and in Super Bowl XIV against the Pittsburgh Steelers. The Rams lost to the Steelers in the Super Bowl, but just for good measure, he also played in the Pro Bowl eight days later.
Bobby Baun. Hockey players are renowned for their toughness and ability to play through pain. Broken noses, lost teeth, or stitches usually aren't enough to keep them off the ice for long. But even the most resilient in the game would have to go to some length to surpass Toronto's Baun. In Game 6 of the Stanley Cup Finals in 1964, Baun blocked a slap shot with his ankle and was carted off on a stretcher. When the contest against the Detroit Red Wings went into overtime, Baun refused to have the ankle X-rayed and instead insisted that it be frozen. He followed his teammates back onto the ice for the extra session and, with the Maple Leafs down three games to two in the series and facing elimination,  Baun scored the game-winning goal and the inspired Leafs went on to win the championship with a victory in Game 7.
Tiger Woods. Golf has been called a long walk spoiled, and it is unlikely any golf tournament has been any more painful than the one Tiger Woods played at the 2008 U.S. Open. After finishing second at the Masters, Woods underwent knee surgery, his third such procedure. Doctors recommended that he skip the upcoming Open, but Woods decided to play. It didn't look good early on as he double-bogeyed the first hole in the final round. Woods hung on, shooting a final-round 73 that got him into an 18-hole Monday playoff with Rocco Mediate. Activity on the New York Stock Exchange fell that day as the pair teed off at noon Eastern Time.
To make matters worse for Woods, the playoff extended to a 19th hole with Woods and Mediate still tied. In obvious pain, Wood somehow reached the green in two shots and safely two-putted for par. When Mediate missed a 15-foot putt, Woods limped away with the championship.
"All I can say is the atmosphere kept me going," Woods said. "I could never quit in front of these people – it was never going to happen."
There are other stories of playing through pain. New York Knicks center Willis Reed famously played Game 7 of the NBA Finals with a torn quadricep, even winning the opening tip. Kirk Gibson of the Dodgers, with a torn hamstring muscle, slugged a pinch-hit home run in the World Series and limped around the bases, pumping his fist. Much like Strug, Japan's Shun Fujimoto competed with a dislocated kneecap to help his country win the team gold in gymnastics in the 1976 Olympics. And San Francisco 49ers safety Ronnie Lott had his crushed pinky finger amputated after the 1985 season rather than undergo surgery that would have caused him to miss the start of the 1986 season.
All of them serve as reminders that, while science may never totally determine what makes athletes persevere under the worst of physical conditions, it's an amazing display when they find a way.
Tim Wendel is the author of several sports books, including "Going for the Gold" and "Summer of '68."
Calah Schlabach, a master of mass communications student at Arizona State University, contributed to this story
Editor's note: For the 2019-2020 academic year, the Global Sport Institute's research theme will be "Sport and the body." The Institute will conduct and fund research and host events that will explore a myriad of topics related to the body.
Related