Youth
Business
Growth of esports offering smaller colleges chance to compete with big boys
Why this matters
Esports allows more non-traditional athletes to compete and gives smaller schools an even footing with large, state universities.
Matt Land saw the revolution coming from his couch: A rolling storm gathering steam and, well, Steam — as in the digital video game distribution platform.
"I have a 14-year-old son," chuckled Land, the athletic director and football coach at Trine University, a private Division III school in Angola, Ind., about 10 miles south of the Michigan state line. "So I know more about "Fortnite" and "Overwatch" than any other 46-year-old athletic director in the country.
"He's a football player and a basketball player also, and he likes playing "Overwatch" and "Fortnite" like everybody else on the middle school football team. This is going to happen. There's no stopping it. It's going to be huge."
Land wasn't the first passenger to jump on the college esports bandwagon, but he's become one of the most enthusiastic, working his way toward a shotgun seat over the past year and a half. Last autumn, Trine — with an undergraduate enrollment of 5,184 and with an average high school GPA of 3.53 among enrollees — launched an esports program at the club level. And it hasn't looked back.
"We were looking for new and unique ways and opportunities for our kids to compete," Land explained. "It opens up new demographics of kids for us as well.
[beauty_quote quote='"Whether people like it or not, whether people get on board or not, it's going to continue to grow. It's going to be big, it's going to be massive. And we just want to be on the front end of it." - Trine University athletic director Matt Land']
"Everybody's 100 percent behind this. This is the fastest growing venture in the country right now. Whether it's a private or public offering, this is what it's about. This is a big deal.
"Whether people like it or not, whether people get on board or not, it's going to continue to grow. It's going to be big, it's going to be massive. And we just want to be on the front end of it."
Land isn't one for thinking — or talking — small. During the 2016-17 school year, Trine began offering esports, men's ice hockey, women's ice hockey and opened the $13.7-million MTI Center, a facility that features a 3,000-seat arena; a fitness center; a six-lane bowling alley; and an esports hub, complete with 35 gaming stations.
"We want to be great in all the things that we do," Land said. "Everybody's on the same page. We're all rowing the boat in the same direction."
They might want to think about investing in a bigger boat if the wave of positive numbers continues. In the fall of 2017, Trine reported an enrollment on its main campus of 4,312 students — an increase of 15 percent from the 3,730 who reportedly enrolled the autumn before. The freshman class jumped from 461 in 2016 to 602 last fall.
Fortunes on the athletic side have seen an uptick, too. The Thunder finished the 2016-17 school year ranked No. 115 in the Division III Learfield Directors' Cup standings. Last fall, with the two ice hockey programs and esports now in the fold, Trine jumped 25 spots to No. 90.
"The decision to start esports has touched every department in our university in a positive way," Land said. "The admissions department wants more kids; it helps there. Financial aid and the business office, they're getting more in revenue from more students.
"This has a part of that group [of kids] in social situations — it will make their college experience more fun, more interesting, more diverse than just going to class and eating. And it's gotten different groups of kids out in social settings. I think that's a great thing. (Esports) is a diverse group by population, a diverse group by major, a diverse group by all of it. It's just like a regular old team."
Recruited like regular athletes
Like a traditional sports team, they practice. They grind. They plot. They pore over opponent game film and opposition tendencies. They try to recruit the most promising teen talents — men and women — on the open market.
Heck, they even draw: Newzoo.com projected that esports will reach an audience of 400 million and produce revenues of $1.25 billion by 2020. In July, more than 20,000 fans sold out the Barclays Center in Brooklyn for the Overwatch League's grand finals.
When the kids are hooked, they're hooked. LendEDU.com in October released the results of a survey of 1,000 esports enthusiasts, and half said they would rather spend money on tickets for esport events than for traditional sporting events or for concert tickets. Respondents noted that they'd spent an average of $566 in a given year on "all things esports." Broken down with greater specificity, ticket expenditures averaged $440 while gambling on esports checked in at $607 annually.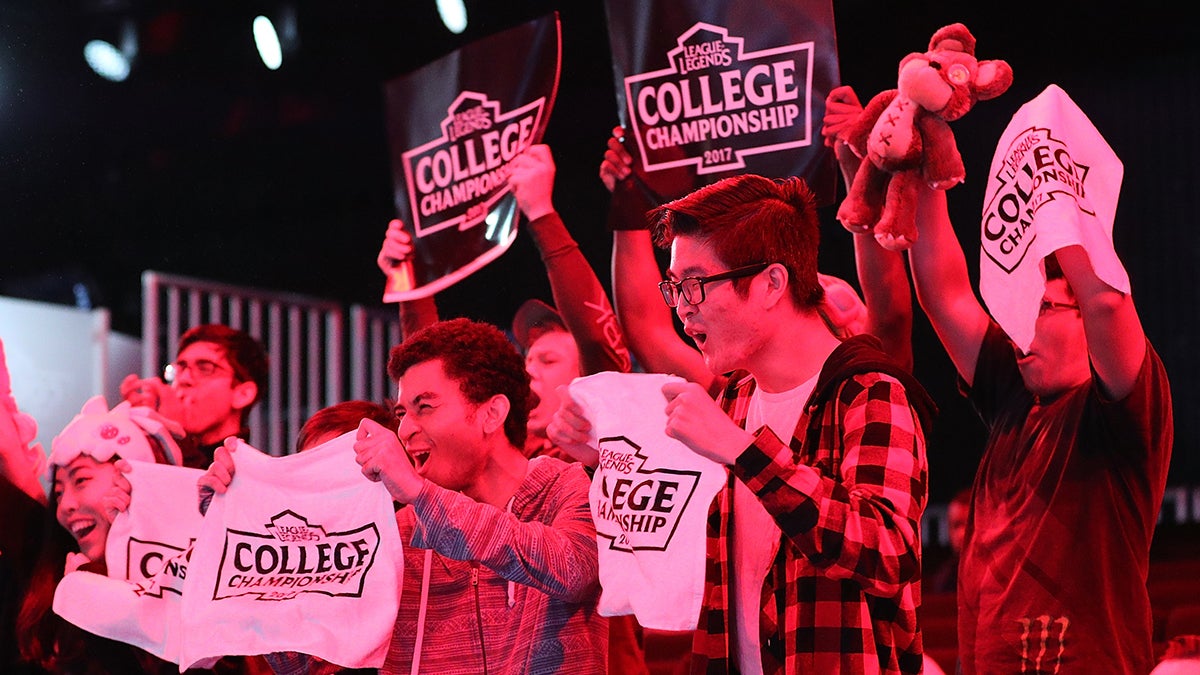 "It's a really upward movement, and I think what's mind-boggling is the amount of students playing," noted Kurt Melcher, executive director of esports at Robert Morris University and at Chicago-based sports marketing firm Intersport. "From the data we have, [it's] 38,000 across the United States who are playing "League of Legends" on campuses. And that's a huge number. And you think about, 'OK, how many programs are there?' There's not many, and they're all kind of doing it on their own."
Not as much as they used to, of course. The National Association of College Esports, or NACE, has a membership of 98 schools, according to executive director and founder Michael Brooks. NACE programs are reportedly offering close to $10 million, combined, in scholarship dollars.
Among NACE members, about 40 percent are running an esports program under the banner of athletics; the others were usually operated under student affairs, student services or as part of a specific academic department.
While NACE has partnerships with the National Association of Intercollegiate Athletics (NAIA) and the National Junior College Athletic Association (NJCAA), the NCAA's student-athlete-as-amateur model has the potential to create square pegs that don't fit into esports' round holes.
[beauty_quote quote='"I don't think there's a set blueprint of what a successful esports program looks like. There are multiple successful examples." - Executive director and founder of National Association of College Esports Michael Brooks']
Title IX is one red flag, as rosters for collegiate esport teams are predominantly male. When Robert Morris University became the first college to offer esports scholarships in 2014, Melcher told VICE.com that the pool of students interested in joining the new program was composed of about "95 percent" men. The presence of esports at Stephens College, an all-women's school in Columbia, Mo., has helped to redress some of that imbalance, but the participation rates on a competitive level aren't believed to be anywhere close to a gamer population that Quantic Foundry reported in 2017 to be between 38 to 48 percent female over the last decade.
Another minefield for NCAA affiliation involves cash prizes: esport tourneys can average as much $15,000 in winnings per player. Activision Blizzard, makers of "StarCraft," partnered with Tespa — the Texas esport Association — to launch an initiative that would give Tespa members a pool of $1 million in awards and scholarships.
"I don't think there's a set blueprint of what a successful esports program looks like," Brooks said of NACE, which has added 74 schools during the last year. "There are multiple successful examples."
Power 5 universities such as Ohio State, Utah and Washington operate at one end of the spectrum; Robert Morris is setting the pace at the other. Different budgets. Different revenues. Same playing field. Trine's first team dedicated to "Hearthstone" — a digital collectible card game that's played between two opponents — posted a 7-0 record in Tespa's Collegiate Series last spring and was ranked No. 2 in the nation. The Thunder fielded 80 e-thletes to open the 2018-19 school year, and Land expects that figure to grow to 120 in short order.
"It's no different than any other sport," Land said. "The director of our esports program (Alex Golpin) is someone who played football for me and is also a member of our admissions staff and is a very good recruiter for the university.
"There were a lot of really good people and a lot of dots that we already had (on campus). Campuses have those dots — they just haven't drawn lines for them yet."
Esports a chance to bridge different cultures
Melcher became the first collegiate athletic administrator to connect those dots, turning the lines into something more concrete.
"Even when I was working, I had every console and every high-end PC," he recalled. "And just playing "League of Legends," just being tied to the pro community, watching, on the club side, I thought, 'This could be a college sport.'"
Melcher had been coaching soccer at Robert Morris when he put together a white paper in 2013 as a pitch to his bosses. The next year, the Eagles took the e-plunge, becoming the first U.S. college to grant scholarships for "League of Legends" players.
"I said, 'We could have one of the best college teams,'" said Melcher, the James Naismith of the digital collegiate playground. "It took some meetings over time and they agreed … I'd been in on some long-range planning meetings, and I think I'd built up enough professional equity that they said that they were going to trust me, that this could really be something."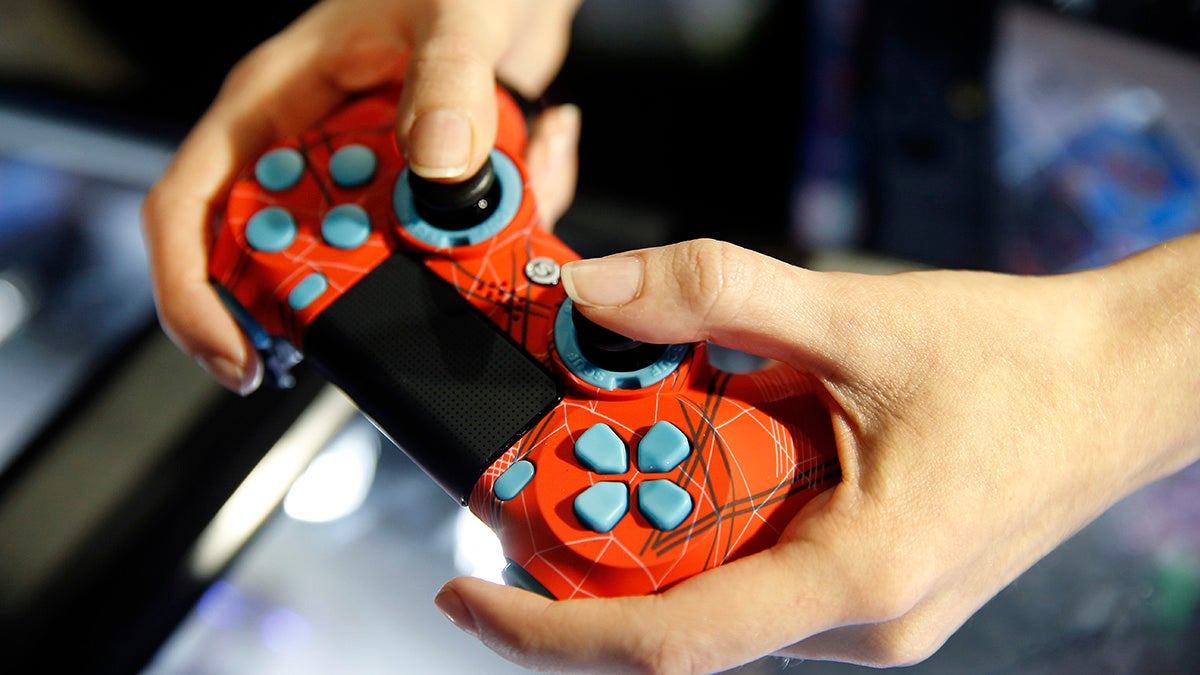 Compared to most athletic offerings, the costs — and risks — were low. The only major unknown, at the outset, was just how high the ceiling could be.
"I said, 'We can't just put some students we're recruiting into a computer lab,'" Melcher said. "The same way if you're going to start a baseball team, you can't say, 'Let's just use this field and put some rubber bases down.' It had to be relevant, and it had to add value to what they were doing. And part of (that was) to teach them to be better players in the game. But, yeah, we went and recruited some of the best players in North America."
The Eagles reached the "League of Legends" North American Collegiate Championships in 2015, and the League of Legends Campus Series in 2016, falling to the University of British Columbia at both events.
"It was a funny look, for sure, from the get-go," Melcher said. "But if someone just takes a second to be able to give it half a chance, it makes a lot of sense.
"My wife is like, 'Why should only people who are able to put a ball through a hoop or put a ball over a line be rewarded for their ability?' When you break it down to its core, this is really a skill, to be talented [as] game-players."
Melcher saw esports as a chance to bridge a set of disparate worlds and disparate passions. As a soccer player at Illinois-Chicago in the 1990s, he organized NHL video game tournaments that would start with his teammates and grow to include friends and contacts from other sports on campus.
"I remember playing "StarCraft" with my brother-in-law on a dial-up modem, and if someone called, the game would stop," Melcher laughed. "Which is why I think there were a lot of people like me. We just couldn't get to each other. We were isolated."
They aren't anymore. Of the 1,000 enthusiasts polled in LendEDU.com's survey, 45 percent of the parents said they would prefer to pay for 1-on-1 video game lessons to individual tutoring in academics or sports. About half those polled — 49 percent — think esports will overtake one of the major North American pro sports leagues in popularity, and 72 percent think it'll happen within the next decade.
Such numbers explain why the NCAA has been exploring ways to get its hands on a slice of the revenue pie somehow. The organization reached out in August 2017 to Melcher and Intersport in order to gauge the temperature of the esports waters.
"That would be an adventure," noted Greg Adler, the new coach for the first-year esports program at University of Texas Dallas. "Part of the problem is the game is run by the developers themselves, so it could be a nightmare to manage. But you never know. If there's money to be made … that's kind of how the world is."
Some gray areas of digital enterprise could very well clash with the more black-and-white corners of the NCAA rulebook. In the summer of 2017, Central Florida kicker Donald De La Haye drew the ire of NCAA rules enforcers for monetizing his YouTube channel. Eventually, he lost his eligibility and his scholarship with the Knights. In January, De La Haye sued UCF, and the university's attempt to get the case dismissed was rebuffed in July.
"Since esports is inherently different in terms of amateurism, in terms of ownership, in terms of where it exists on campuses, there are more interests [than just] with athletics," Brooks said. "Ideally, we'd love to see the NCAA come in with this organization … [we] understand that with esports, it's different. It isn't mature by any stretch of the imagination. It's kind of in its own box."
And the box still isn't for everyone. As with ice hockey in the 1990s and NASCAR a decade ago, esports boasts a fiercely loyal base -- but it is a niche base that skews young. The mainstream media returns have been mixed, especially on the broadcast front: ESPN's airing of the "Overwatch" finals this summer, according to John Ourand of the SportsBusiness Journal, drew approximately half the television households (215,280) as the early-evening edition of "SportsCenter" (406,640) that preceded it.
"People say there's money to be made, and nobody has made money off of esports yet (on the collegiate end)," Brooks said. "It's a venture-capital backed system. The idea is that it could one day. That's where we're at right now. We're in the building phase … why risk the house to save your kid's middle school science experiment? It could be something great. But it's not there yet."
Esports offers low overhead for smaller schools
Even if the NCAA isn't ready to dive in as a governing body, individual schools haven't stopped looking to pounce, the gospel spreading by word of mouth. Land met with Melcher three years ago to inquire how Robert Morris got out of the starting gate with such gusto.
Now his athletic director peers from departments of all sizes are turning to him for advice.
"I've probably gotten two or three of those a week now the last three or four months," he said. "We've had 10 to 15 groups come on campus and look at our stuff and talk to us about esports, specifically. Anywhere from small privates to Western Michigan to everywhere in between."
Schools in Trine's weight class, such as UT Dallas, envision esports as a way to build a competitive program, a front-porch affair, through a burgeoning sport that — unlike, say, football — presents a relatively low overhead.
The Comets unveiled their esports program this summer with a 25-person computer room in the student union. Adler's squads practice two to three days a week for three hours per session.
[beauty_quote quote='"This is a multi-billion dollar industry already, it's only going to grow, and they need people to work there. And that's what colleges do — train people to go into the marketplace. If you're a college, and a small private like we are, you want to find ways to attract people to come to your school." - Matt Land']
"When you pull your ESPN app up and when you look for esports on there, there's [tabs] for NFL, MMA, and there's an esports button, push it and you're going to see all the stuff that you want to see," Land said. "When I found out they sold out [the Barclays Center] with 20,000 people to watch people play this (game) … it's not hard; it's not hard. I didn't need to be a rocket scientist to figure out this was going to be big. It's already big. And it's going to continue to grow and become mainstream."
Land notes that Trine's initial esports investment is "already in the black" in Year 2. As a Division III program, the Thunder don't give out athletic scholarships, but they do extend activity grants for esports worth approximately $2,000 per player. Though that doesn't significantly offset an annual tuition of more than $31,000 for full-time students, Land is looking to increase the pool of financial aid available.
Trine administrators are also talking about doubling down on the academic angle, offering majors in game programming, game design and event management for esports, or concentrations along a similar vein.
"This is a multi-billion dollar industry already, it's only going to grow, and they need people to work there," Land said. "And that's what colleges do — train people to go into the marketplace. If you're a college, and a small private like we are, you want to find ways to attract people to come to your school."
In other words, it's game on.
Sean Keeler has written for several media outlets, including FOX Sports, The Guardian, American Sports Network, and Cox Media's Land of 10 and SEC Country verticals. You can follow him on Twitter @SeanKeeler
Tags:
Campus Series
,
Central Florida
,
Division III
,
Division III Learfield Directors' Cup
,
Donald De La Haye
,
esports
,
Fortnite
,
League of Legends North American Collegiate Championships
,
LendEDU.com
,
Matt Land
,
MTI Center
,
NACE
,
NAIA
,
National Association of College Esports
,
NJCAA
,
Ohio State
,
overwatch
,
Overwatch League
,
Power 5
,
Robert Morris University
,
StarCraft
,
Tespa
,
Texas esport Association
,
Trine University
,
University of British Columbia
,
Utah
,
Washington
Related